EXITNORWAY – a research project on emigration from today's Norway
Funded by The Research Council of Norway

Every year, around 30.000 persons leave Norway for another country.
The EXITNORWAY research project dives into who they are, why they leave, and how their emigration shapes Norwegian society.
NEWS
Publications on emigration policy
September 2023
Two EXITNORWAY publications dive into the topic of emigration policy – what is it, who has it, why, and what measures are used? The publications – a report and a policy brief, both in Norwegian – also discuss emigration policies in the Norwegian context and show some estimates of the number of emigrants from Norway currently living abroad.
EXITNORWAY at IMISCOE 2023
July 2023
The international migration conference IMISCOE had several contributions from the EXITNORWAY team. Among others, Aadne Aasland presented perceptions about the future – including possible returns – among Ukrainian refugees in Norway, and Marianne Tønnessen gave a register based description about different groups of emigrants from Norway. Also the EXITNORWAY researchers Inese Šūpule and Anne Balke Staver contributed at IMISCOE 2023.
The 'Party-Swedes' – before, during and after their stay in Norway
April 2023
Young adults crossing borders between wealthy countries for work and adventure is an under-studied group of international migrants. We use a unique combination of register data from Sweden and Norway to follow the so called 'Party-Swedes' – young people emigrating from Sweden in 2010-12 to work in Norway – and their median income before leaving Sweden, during their stay in Norway and after possible return to Sweden. In economic terms, the 'party penalty' seems clearly larger than the 'party premium'. This work can be read as a Stockholm Research Report in Demography.
Emigration as an anti-ageing formula
March 2023
Population ageing is a topic of great concern in many countries, but changed emigration is rarely mentioned as a possible remedy against ageing. In a recently published paper we explore what effect different scenarios of reduced emigration would have on future population ageing in Norway, and discuss the realism of these scenarios. The paper is published in Vienna Yearbook of Population Research 2023 and can be read here (in English). The EXITNORWAY policy brief Redusert utvandring vil gi en litt yngre (men klart større) befolkning summarizes the findings in Norwegian.
Have you emigrated from Norway, and do you have Somali background or are Indian working in ICT?
February 2023
EXITNORWAY researchers are recruiting interviewees who have emigrated from Norway or who are considering emigration. We want to get in touch with: 1) people with Somali background, and 2) people from India who work in the ICT sector. Would you like to share your experiences with us? We are particularly interested in coming into contact with people who have already left Norway for another country. Please contact Tone Liodden at +47 97627785 or at tone.liodden@oslomet.no
Urban immigrants emigrate more frequently
November 2022
Immigrants who arrive in more central parts of Norway have emigrated to a larger extent than immigrants who came to less central municipalities. This is one of the findings in a report on immigrants' internal mobility in Norway, prepared by EXITNORWAY researcher Marianne Tønnessen. The report can be read (in Norwegian) here.
Interviewing Latvian emigrants
October 2022
Right now, EXITNORWAY researcher Inese Šūpule and her colleagues are conducting interviews with Latvian emigrants who have left Norway, asking them about their experiences. This will result in an academic paper about Living in and leaving Norway.
Would you like to share your experience? Contact Inese here.
New paper on future old-age immigrants
September 2022
In a recently published paper EXITNORWAY researchers Astri Syse and Marianne Tønnessen take advantage of the fact that few emigrate in older ages to assess future characteristics and needs for care services among Norway's oldest immigrants. The paper can be read (in Norwegian) in Tidsskrift for omsorgsforskning.
Do the richest emigrate more?
September 2022
Emigration among the wealthiest has been a topic in the Norwegian public debate this fall. A new EXITNORWAY Policy Brief examines emigration among people in different wealth groups and shows that 1) most people do not emigrate, even among the wealthiest, 2) emigration propensities are somewhat higher among people with very high net wealth (NOK 50 mill or more) compared to them with somewhat lower wealth, and 3) this relationship is less clear among immigrants than for natives. The Policy Brief can be read (in Norwegian) here.
EXITNORWAY at the IMISCOE conference
July 2022
EXITNORWAY organized a separate panel on emigration from wealthy countries 1 July 2022 at the 19th IMISCOE Annual Conference. The panel included four presentations: What Makes the Privileged Move? Updating Migration Theory for Emigration from Developed Economies (presented by Andreas Ette), Migration decision making of Dutch-Moroccans: the search for freedom (Warda Belabas), Goodbye Norway: Testing Neoclassical versus Other Migration Theories (Amelie Constant) and Changed emigration: An anti-ageing formula? (Marianne Tønnessen).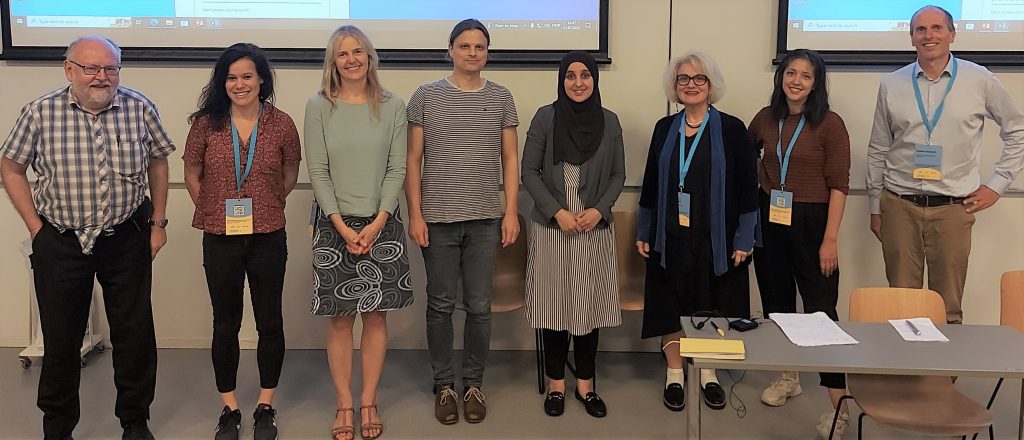 Out-migration from Oslo in 2020
December 23, 2021
Out-migration was high from many cities across the world in 2020. In the paper Movers from the city in the first year of Covid, EXITNORWAY researcher Marianne Tønnessen examines the characteristics of those who moved from Oslo in 2020 – to other countries or to other parts of Norway. The EXITNORWAY policy brief Korona-utflytterne summarizes and supplements the findings in Norwegian.
Research article about Latvians returning (or not)
June 15, 2021
EXITNORWAY researcher Inese Šūpule has published the paper Intentions to stay or to return among highly skilled Latvians in the EU: who is more likely to return? in Journal of Baltic Studies.
Forskning.no story about EXITNORWAY
June 5, 2021
The main Norwegian site for research news, forskning.no, presents the EXITNORWAY research project (in Norwegian) on their website and in a facebook post.
Andrea Monti defended her thesis on emigration
June 4, 2021
EXITNORWAY researcher Andrea Monti at Stockholm University has defended her doctoral thesis on emigration: Moving again – Studies of international return and onward migration. The dissertation can be found in pdf here.
Low emigration among the elderly enables projections of older immigrants' characteristics
May, 2021
In the future we can expect growing numbers of older immigrants in Norway's labour force. In a paper in Søkelys på arbeidslivet (in Norwegian) and a policy brief (in English), EXITNORWAY researchers Astri Syse and Marianne Tønnessen show how low emigration among older immigrants makes it possible to project characteristics of future older immigrants in Norway.
Two papers on return migration
May, 2021
EXITNORWAY researcher Amelie Constant has recently published two works on return migration; one in the Handbook of Labor, Human Resources and Population Economics, and one chapter in the book The Economic Geography of Cross-Border Migration.
EXITNORWAY presented at OsloMet's research news
May, 2021
OsloMet's site for research news presents the EXITNORWAY project (in Norwegian) here.