This year's Global Fact, the world's largest fact-checking summit, was hosted at Oslo Metropolitan University in late June. This was the first in-person Global Fact since 2019, and energy was high. Just as the fact-checking community–technologists, journalists, policymakers, academics–has grown significantly over the last few years, so too did attendance at Global Fact. This year saw a record number of over a thousand attendees, in-person and online. The offerings at Global Fact also expanded and diversified. This year, the SCAM team not only hosted Global Fact, but organized a full-day academic track, which productively brought together researchers and practitioners around a range of topics.
After issuing a call for papers, the SCAM team curated several sessions from submissions across the globe, including panels and presentations on:
The divide between research and practice
Fact-checking, platforms, and platformization
Media literacy approaches
Technology and fact-checking
Updates from major research projects around fact-checking
Both the academic track and the main conference featured keynotes from Professor Joan Donovan from the Harvard Kennedy School; her practice-oriented work and insights around misinformation also served to lay ground for productive conversation between researchers and journalists.
The Source Criticism and Disinformation team curated, moderated, and also presented at Global Fact 9.
Oscar Westlund presented team findings around the uses of technology in fact-checking, including presentation of 'tech grid', a systematized categorization of 130+ tools used in various stages of fact-checking.
Valérie Belair-Gagnon presented team findings around tradeoffs in platform partnerships for fact-checkers, including in arenas of resources, expertise, and routines.
Steen Steensen presented both the project as a whole during the dedicated academic track, and also presented the concept of source criticism (and the related SCAM aims) during the main conference.
The conference concluded with a reception in the Oslo City Hall, hosted by the mayor.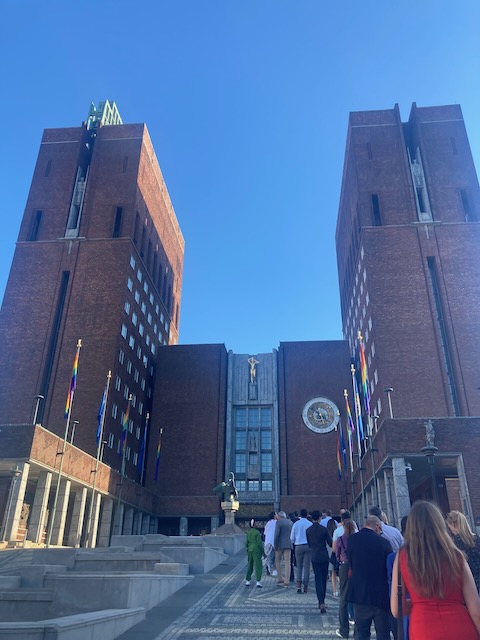 The team was also able to meet with advisory board members in Oslo in the days before Global Fact, and make significant progress on multiple research aims within the SCAM project.
The agenda from Global Fact 9 can also be seen here.