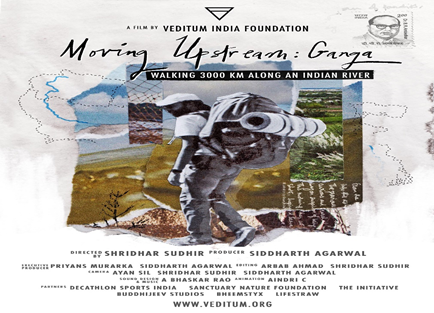 Facing downwards, sideways, or sometimes hazed, the camera forms an angular relationship with the river, as Siddharth wrestles as he walks on the uneven edge of the river's bank built by a long history of deposited sediments – folded in time of a river so different from what we know now. The documentary begins as a collective effort of a few friends –from streams to a river, merging and departing as the plot thickens and stories evolve.
The duo-protagonist, Ganga (the river) and Siddharth remain united in spirit on this journey. Beginning from downstream in Calcutta, Siddharth walks barefoot through uneven, patchy, but storied lives of Ganga River and the riparian communities alongside the banks. The journey covers 1600 kilometres – using 'walking as a tool that has the capacity to disarm people' says Siddharth.
In this passage, the storyline for the documentary encapsulates narratives as forms of telling – one in which both the narrator and the river dissolves the modern construct of water as a singular entity. Narratives of riparian communities illuminate an inner life of human stories fraught with struggles as flood plains shift, forming chaurs and diaras (deposition caused by the river). The documentary captures how these fluvial landscapes across Bengal and Bihar often emerge and disappear, not only as depositions but as an arsenal of collective memory containing lived lives of those who look at it from far away. The gripping stories of lost homes, livelihoods and now new forms of waterways transportation lay bare the difficulties of riparian people. In what seems like a very fraught storyline, I divide the documentary into two conditions of broad visual narratives.
Read more here: Rivers as Narratives: A review of "Moving Upstream Ganga" – Rahul Ranjan – Doing Sociology
By Rahul Ranjan