260 participants from all over the world attended the Second International Conference for Design Education Researchers – "DRS//cumulus Oslo 2013".
---
Olav-Johan Øye
Published: 16/05/2013 (7.57 am) Updated: 04/06/2013 (4.39 pm)
---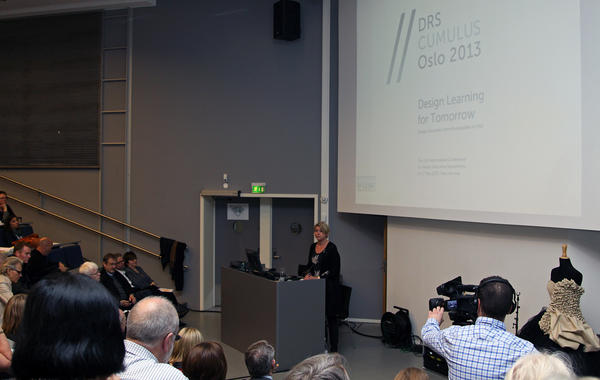 Faculty of Technology, Art and Design hosted and organized the conference together with DRS (Design Research Society), and CUMULUS (International Association of Universities and Colleges of Art, Design and Media).
The theme of the conference was "Design Learning for Tomorrow – Design Education from Kindergarten to PhD". The Director General of the Research Council of Norway, Arvid Hallén, opened the conference and emphasised the importance of the conference theme, and that research is more and more conducted within the frames of international partnerships, and stressed that design and design education is an important area.
– The theme of the conference has received an overwhelming response, said HiOA Professor, Liv Merete Nielsen at the opening of the conference.
– This is very gratifying for us as hosts, as we view design in a broad interdisciplinary perspective in support of a better tomorrow. For years we have promoted the idea that sustainable design solutions should include more than professional designers.
They should also include a general public as conscious consumers and decision makers with responsibility for quality and longevity, as opposed to a throwaway society.
– In the call for the conference, we have argued for a longitudinal perspective on design education, where education of professional designers is seen in relation to the general education of a people. With this conference we have the ambition to see education at different levels in securing sustainable design for everyday solutions.
– We have received 225 full papers for this conference. Out of the 225 papers, 165 was selected and included in the conference proceedings. The very positive response to this theme has been demonstrated by the great number of papers we have received from academics active in relevant research and education, Liv Merete Nielsen said.
Rector Kari Toverud Jensen wished all a good conference and talked about HiOA and the University College's ambitions. She emphasized that design is and will continue to be important, for instance in relation to solutions within health.
More information: