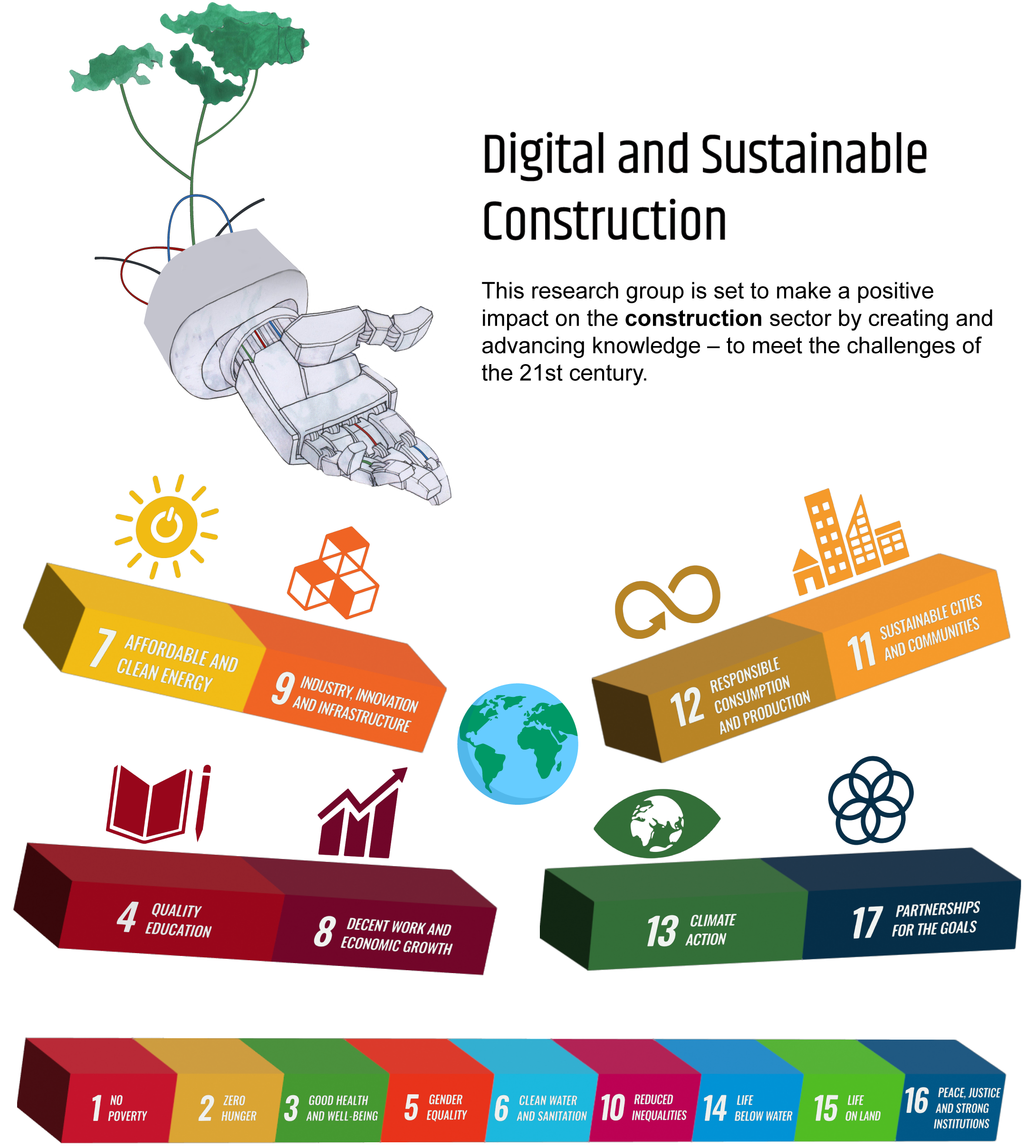 Our research group conducts advanced interdisciplinary research toward digital and sustainable construction in the future. We aim to attract talented researchers and reinforce collaboration between industry and academia for the successful development of alternative integrated digitalization frameworks and methodologies, to improve sustainability in all phases of the construction project's lifecycle.
In today's landscape of construction business, digitalization and sustainability are the two most influencing market trends. Each has sparked a slew of research on how it will change engineering, management, and society. However, the interplay of these trends is still mainly unexplored.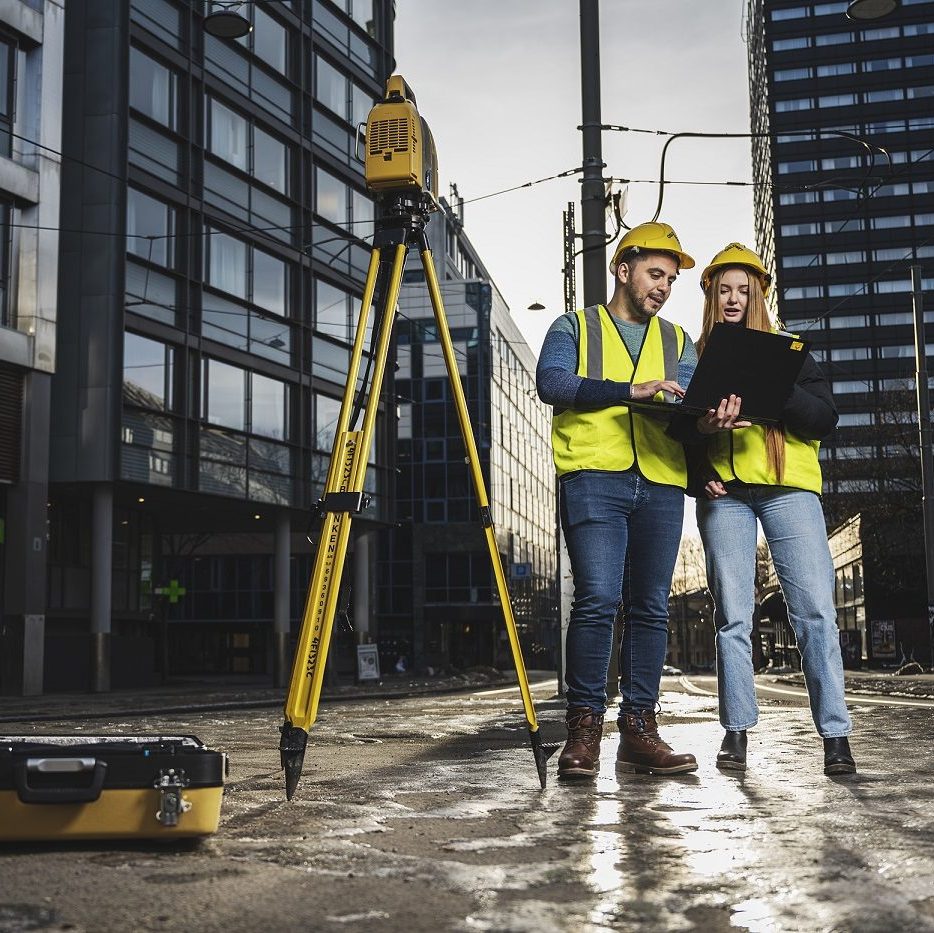 Digitalization
Construction projects are moving toward getting more complex and intricate, characterized by a high level of risks and uncertainties while having high capital costs. The large volume of processes and tasks delivered by multiple professional parties must be delicately planned and managed.
Digitalization can provide integration opportunities to the whole construction value chain, paving the way for achieving sustainability in the construction sector. For that, considering technological risks and path dependencies, innovative and sustainable approaches for the integration of soft and hard digital systems into construction engineering and management (CEM) are required.
Among the many research areas emerging from digitalization in construction, the role of Artificial Intelligence (AI) as a disruptive technology in CEM is central to our research activities. Adoption of AI can help making faster, more efficient, and erudite decisions that rely on collected data and mimicking human cognitive functions of learning, reasoning, and self-correcting.
AI-driven systems are progressive in nature and involve continuous learnings that are based on unbiased facts. With a proper data structure, AI has the ability to autonomously assist in real-time decision making and reshape the way construction processes are governed. Our research on the application of AI in the construction sector includes but is not limited to
automated planning and pattern recognition for model-based intelligent behaviour (process mining)
advanced machine learning and process optimization algorithms for decision support and decision-making problems (expert system)
predictive cost overrun models
structural damage assessment
waste generation and energy management
Besides AI, we have a keen interest in sustainable digital transformation and adaptation within construction management and processes. Currently, building information modeling (BIM) is the crux of digitalization in the construction sector. By leveraging the power of AI, we strive to explore the use of BIM for generative design, planning, construction, structural health monitoring (SHM) and management procedures.
In this regard, we will investigate applications of BIM in all phases of construction as well as the innovative integration of BIM with other digitalization practices that lead to automation of the construction processes. These digital solutions include digital twins, sensor management systems, augmented reality (AR), virtual reality (VR), 3D scanning, 3D printing, drones and robotics, to name a few.
Sustainability
Sustainability is the primary moral and economic imperative of the 21st century. It is one of the most important sources of both opportunities and risks for businesses "

Mervyn King, former Bank of England governor.
In terms of global trends, our research is aligned with the United Nations Sustainable Development Goals (SDGs) which rest on three pillars of economic, environmental, and social sustainability.
It is well-known that construction projects have a strong impact on social communities and are one of the most resource- and energy-intensive industries with a great potential to strengthen all aspects of sustainability. However, the three sustainability pillars are interlinked and achieving long-lasting sustainability is a complicated task that requires a large amount of information to be synthesized and interpreted by decision-makers.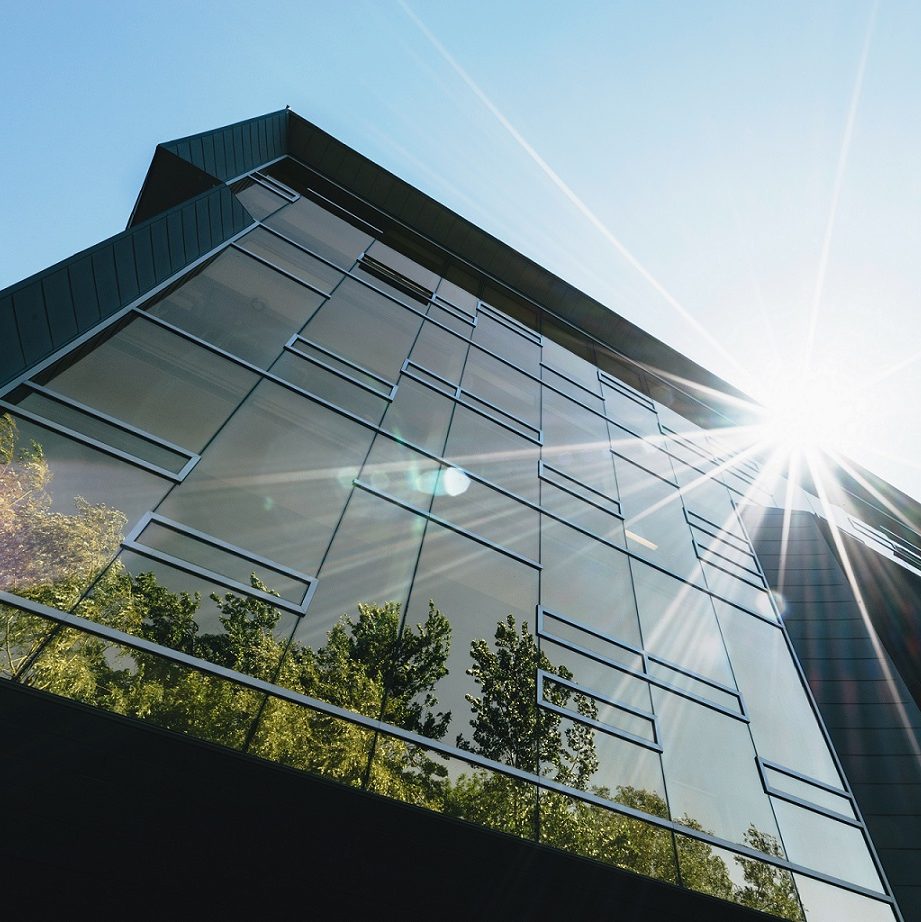 We take into account the opportunities arising from digitalization to expedite sustainability practices in CEM. In this context, we will develop strategies for
systematic identification and advancement of sustainable construction methods and innovations,
utilization of BIM for high-quality environmental, economic and social life cycle assessment (LCA) practices,
new integrated monitoring and innovative decision makings to facilitate circular transformation throughout the construction value chain,
effective implementation of lean construction, automation, and modularization (LAM),
decoupling of energy consumption, resource use and growth in the construction sector by integration of renewable energies and efficiency measures into the design and processes, and
sustainable development of construction approaches to comply with tightening regulations and taxonomies.
Knowledge application
Dissemination of produced knowledge concerning the advancement of the construction industry involves a wide range of recipients from the international scientific environment to building professionals, users and authorities.
Furthermore, the group's research activity is closely linked to an educational context, in which several courses and specializations in our master's and bachelor's programs represent an important outlet for the research group findings