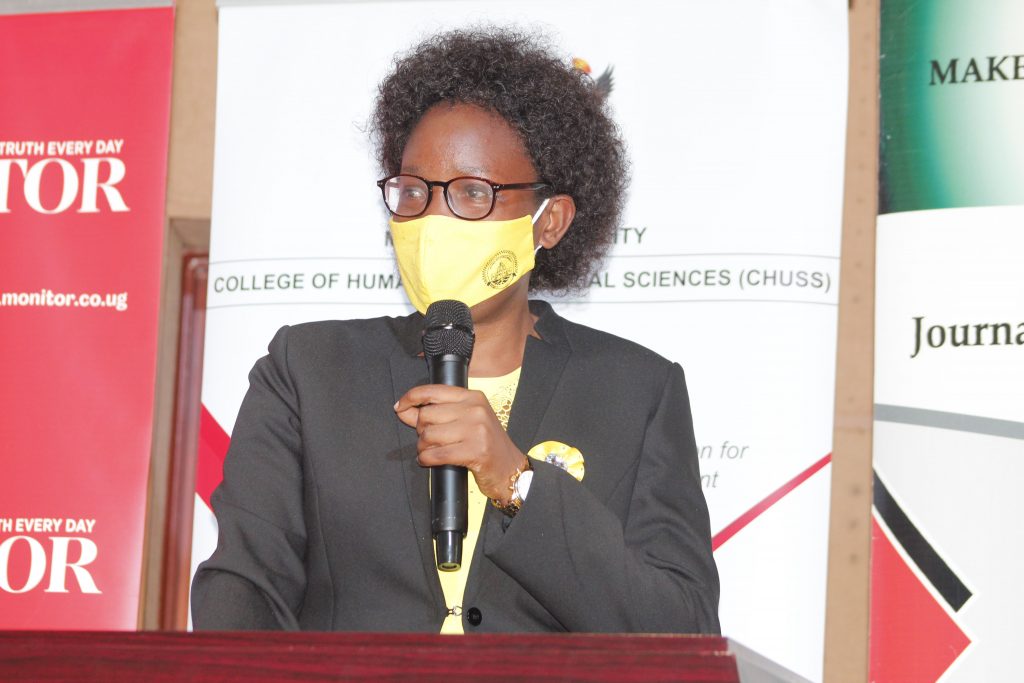 Uganda's Minister of Information, Communication Technology (ICT) Ms. Judith Nabakooba has pledged government's commitment to promote media freedom in Uganda.
While speaking at the commemoration of the World Press Freedom Day on May 3, 2021 at Makerere University in Uganda, Nabakooba said that the government is willing to put in place an enabling environment that promotes freedom of the media.
"My pledge on behalf of government is that we are available to continue engaging with all stakeholders, to promote a free, professional and responsible press. This includes formulating and/ or reviewing the policies and laws that provide for the practice of journalism and functioning of the media,"

Nabakooba.
She noted that promoting press freedom is a collective effort that requires the contribution of all stakeholders. Nabakooba further said that: "As we mark this year's World Press Freedom Day, let us re-commit ourselves to building a press that is free, and a media that works for all."
Nabakooba's comments came on the heels of an upsurge in police and military brutality against journalists in Uganda. She categorized these acts as individual mistakes rather than institutional and demanded that those involved should be punished.
"I would like to stress that where security personnel have been involved, their actions are individual and not institutional. In this regard, we insist that individual perpetrators are apprehended and sanctioned. We also continue to urge our security agencies to act with discretion, engage with, and endeavor to maintain cordial relationships with the media," .

Nabakooba
She commended the Journalism & Media International Center of Oslo Metropolitan University for supporting the event.
The Deputy Head of Cooperation at the Norwegian Embassy in Kampala Ms. Kjersti Lindøe expressed concerns over the increasing threats to media freedom, safety of journalists and access to reliable information throughout the world.
She emphasized the importance of a free press noting that: "Free media, safety of journalists and access to reliable information is important not only for each individual, but for the development of a democratic society. Freedom of expression is a prerequisite for uncovering human rights violations and for ensuring that other human rights are being fulfilled, like the right to health, food and education."
Ms. Lindøe pledged that Norway will continue to be at the forefront in promoting freedom of expression and independent media internationally. She said Norway's priority areas continue to include independent media, protection of journalists and access to information, as well as gender equality, artistic freedom and freedom of expression for minorities.
The Vice Chancellor of Makerere University, Prof. Barnabas Nawangwe, said that the media plays an important role in disseminating research and innovations from Makerere University. He requested the Information Minister Ms. Nabakooba to reinstate the university radio station, Campus Fm that was taken away some years ago due to lack of an operating license.
The commemoration of the World Press Freedom Day also included a keynote address that focused on Media Freedoms, Constitutionalism and the Rule of Law in hybrid regimes by Makerere University Law Lecturer, Dr. Busingye Kabumba. Other speakers included a panel discussion by Makerere University staff on academic research in the area of press freedom and journalists' safety. Another panel that included journalists, representatives of security agencies and civil society organisations discussed "Actions of Security Agencies: Key issues for the Police and the Army in safeguarding rights." (By Gerald Walulya)