1. Are Male Perpetrators of Intimate Partner Violence Different From Convicted Violent Offenders? Examination of Psychopathic Traits and Life Success in Males From a Community Survey. In Journal of Interpersonal Violence (journals.sagepub.com)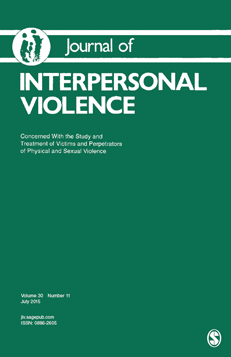 Delphine Theobald, David P. Farrington, Jeremy W. Coid, Alex R. Piquero
Abstract
We used data from the Cambridge Study in Delinquent Development, a prospective longitudinal survey of more than 400 males in the United Kingdom followed from age 8 to age 48 to investigate intimate partner violence (IPV) and its association with psychopathy.
We investigated the differences in psychopathy scores between those men who were convicted of violence, those who were involved in both extra- and intra-familial violence, and those who committed IPV only. We also considered whether these generally violent men had poorer life success overall with regard to their drinking and drug taking, depression, and other mental disorders.
Our findings suggest that those men who are violent both within and outside the home (the generally violent men) are distinguished from those who commit violent crimes outside the home and those who are involved in IPV within the home only. The differences appear to be more in degree than in kind. These findings are discussed with a focus on whether specific interventions are required for those who commit IPV or whether early intervention should be focused on violent behavior in general.
Isabelle Ouellet-Morin, Helen L. Fisher, Marianna York-Smith, Stephanie Fincham-Campbell, Terrie E. Moffitt, Louise Arseneault.
Abstract
Background
Studies indicate that women victims of intimate partner violence are at increased risk for poor mental health. This research disentangled the effect of partner violence on new-onset depression and psychosis spectrum symptoms from effects of child maltreatment and other confounding factors, including substance abuse and antisocial personality.
Methods
Participants were 1,052 mothers involved in the Environmental Risk (E-Risk) Longitudinal Twin Study, a nationally representative cohort of families followed prospectively. To test the directionality of associations between partner violence and depression, only women without a history of depression at the beginning of the study were considered (n = 978). Partner violence and mental health were assessed during face-to-face interviews with women across three time points.
Results
Four of 10 women reported being the victim of violence from their partner in a 10-year period. They represent 33% of our cohort and they account for 51% of new-onset depression. These women had a twofold increase in their risk of suffering from new-onset depression once the effect of childhood maltreatment, socioeconomic deprivation, antisocial personality, and young motherhood were controlled. Women who were abused both in childhood and adulthood were four to seven times more likely to suffer from depression than never-abused women. We observed similar associations with psychosis spectrum symptoms.
Conclusions
Women victims of partner violence account for more than their share of depression. Findings strengthen existing evidence that partner violence independently contributes to women's poor mental health. Psychological difficulties among a considerable number of women could be reduced by stopping partner violence.