Først og fremst vil vi ønske deg velkommen som kollega! Dette er en veldig gledelig utvikling for Forbruksforskning Norge (SIFO) og vår klesforskningsgruppe, ved siden av selvfølgelig arbeidet i prosjektene du har ledelsen av arbeidspakker. Så først og fremst: velkommen!
I så lang tid har vi tenkt på deg i sammenheng med London College of Fashion, og nå er du tilknyttet tre skandinaviske institusjoner. Er det en spesiell tilhørighet til denne regionen som har resultert i disse tre nye ansettelsene?
Vel, det er en veldig vakker region, da! Og seriøst, det har vært en jevn – og voksende – engasjement innen bærekraft-, design-, mote- og tekstilarbeid i de nordiske landene de siste tjuefem årene, og jeg er nå beæret over å kunne knytte meg til dette arbeidet i tre forskjellige institusjoner.
Er de to andre stillingene veldig forskjellige fra din rolle hos SIFO?
Alle rollene er ganske forskjellige, og trekker på ulike deler av min kunnskap og ferdigheter. Noen er mer designbaserte, andre mer strategiske, mens arbeidet ved SIFO er mer spesifikt knyttet til forskningsprosjekter.
Forskningsprosjektet ditt, Craft of Use, brakte inn et nytt perspektiv på hvordan vi bruker klærne våre på en myriade av måter; som har inspirert mange til å revurdere forholdet sitt til klær. Hvordan førte denne forskningen til for eksempel Earth Logic og dine innspill til ny forskning? Er det en «tråd» som vever seg gjennom forskningen din?
Craft of Use-prosjektet startet i 2008 som en måte å få et glimt av hvordan «mote» kan se ut i et landskap etter vekst-paradigmet. Tanken var at i en verden utenfor «forbrukerisme» når klær ikke lenger kjøpes tankeløst, får ferdighetene til å bruke plagg på en god måte, med hengivenhet og omsorg, ny betydning. Disse ferdighetene vil bli de viktigste valutaene for moten når vi går bort fra stadig vekst, for de vektlegger også praksis, ikke bare produkter og brukere, ikke bare plagg. Gjennom en type hybrid etnografisk-design forskning, koblet Craft of Use-prosjektet sammen hverdagen (brukerens liv), system-spørsmål om økonomiske og sosiale strukturer vi tar for gitt, og relasjonspotensialet til andre måter å koble design til handling. Earth Logic, antar jeg, er en åpenbar videreføring av denne tilnærmingen. Den bruker også en lignende aksjonsforskningsmetodikk og er tilsvarende radikal.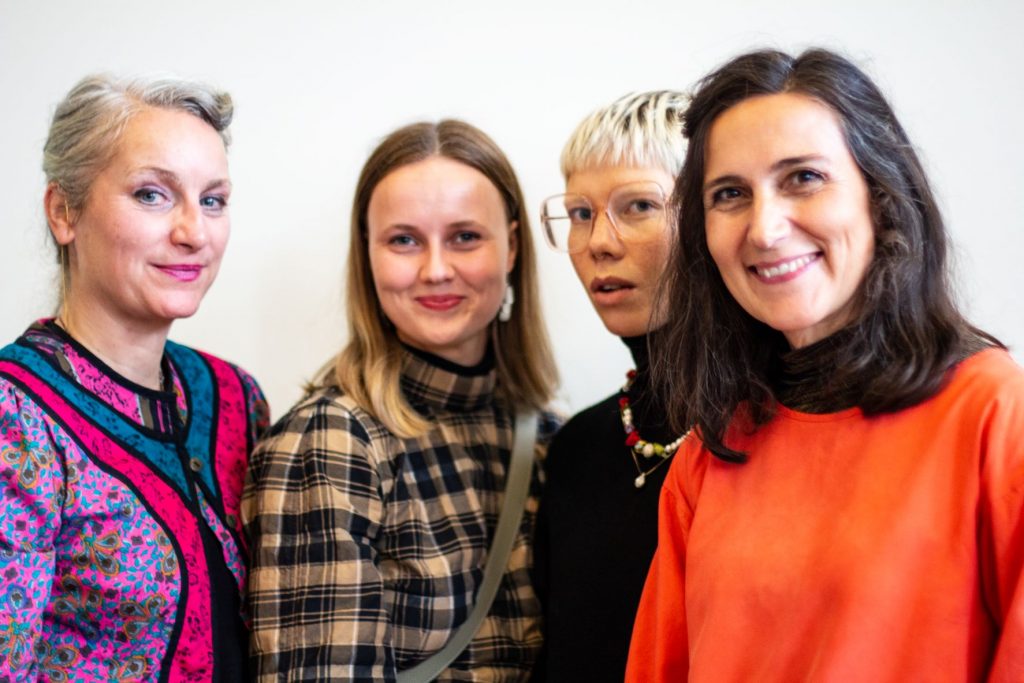 I de to prosjektene Lasting and CHANGE, hvor du leder to arbeidspakker, ser du utenfor den vestlige tilnærmingen til forbruk og mote/klespraksis med en ny linse eller et «kaleidoskop». Er dette utfordrende for deg personlig og også for forskning generelt?
Det er både personlig utfordrende, og utfordrende å forske på, og nødvendigvis er det nettopp det. For lenge har de dominerende ideene innen felt som mote og bærekraft blitt antatt for å være universelle, med antagelsen om at ingen sitter utenfor disse ideene, utenfor dette epistemiske territoriet for kunnskap og innsikt. Men med denne antagelsen følger at ting blir helt borte og fornektelse av andre perspektiver, realiteter, muligheter, osv. Når vi ser på flere perspektiver, takler vi noen av de største temaene som vestlig hegemoni, at mennesket er eksepsjonelt, patriarki, men det handler også om små praktiske ting som hvordan man skriver ting i listeform, som dermed introduserer et hierarki, som igjen medfører en utilsiktet prioritering eller et maktforhold.
Noe av fokuset i Mathilda Thams and din Earth Logic handler om en mer lokalisert og mangfoldig tilnærming til klær og mote. Jeg synes personlig dette er fascinerende, og det resonnerer med så mye av det som må på plass for å «reparere» vårt nåværende system, hvis vi i det hele tatt kan reparere det, da. Har du noen tanker du er villig til å dele rundt dette, om systemendring innenfor dagens økonomiske system?
Lokalsamfunnsbasert handling blir gang på gang sett på som det mest radikale grunnlaget for bærekraftsendring. For det er på lokale steder liv leves. En av trådene vi forfølger i Earth Logic er et utforskende prosjekt rundt en lokal mote-myndighet. I Earth Logic, når vi snakker om myndigheter og styresett og styring, tenker folk ofte på sentrale myndigheter, det som skjer på nasjonalt eller pan-nasjonalt nivå, men det Earth Logic er interessert i er på et annet nivå. Vår interesse er de små individuelle, husholdnings-, fellesskaps- og regionale beslutninger rundt organisering og regulering av klestilbud og uttrykk. For å være tydelig, handler dette ikke om hva som kan produseres i en region, men mer om hvordan vi kan møte behov med de klærne vi allerede har. Dette er for meg systemendring. Jeg lar deg være dommeren om det er innenfor gjeldende system eller ikke.
Hva synes du bør utforskes videre på SIFO, hvilke temaer ser du som uadresserte?
En av de kritiske utfordringene for mote og bærekraft er å takle økende forbruksvolumer. Jeg vil gjerne komme rett til kjernen av denne utfordringen og utforske å konsumere mindre, og å gjøre det med kolleger med ekspertise fra hele SIFO-familien.
Føler du at forskningsråd forstår hva de faktiske problemene er? Har du et ønske om en utlysning du ikke har sett?
Generelt ser det ut til at forskningsråd foretrekker å finansiere prosjekter som ligner på eksisterende, som bruker samme tenkning og er i tråd med etablerte økonomiske prioriteringer. Det jeg håper på er at dristigere, mer risikofylte, langsynte prosjekter også vil bli finansiert. Slike prosjekter skaper generelt komposten som andre prosjekter kan så frøene til endring i. Og uten komposten vil ikke andre frø til fremtidige prosjekter spire. Så dette er til syvende og sist en investering i fremtiden.
Forbruk, som ord og begrep; hva synes du er mest problematisk og hva synes du er verdifullt?
Etymologisk sett finner jeg begrepet forbruk problematisk, fordi det betyr «å bruke opp». Og i motesammenheng er dens sterke tilknytning til forbrukskulturen antitetisk til bærekraftig balanse. Likevel, inspirert av ordene til poeten og bonden Wendell Berry, ser jeg også på forbruk at det handler om omsorg og ivaretagelse. Det vil si alle typer praksis som opprettholder livet ved å knytte oss til stedene våre og verden som ivaretagere. Det er selve kunsten å binde sammen alle trådene i det levende nettverket som opprettholder oss.